I've had the pleasure of getting to know Chef Justin Kern over the last few years. It's one of the awesome benefits of writing about food events. The guy is super cool and pretty darn fierce in the kitchen.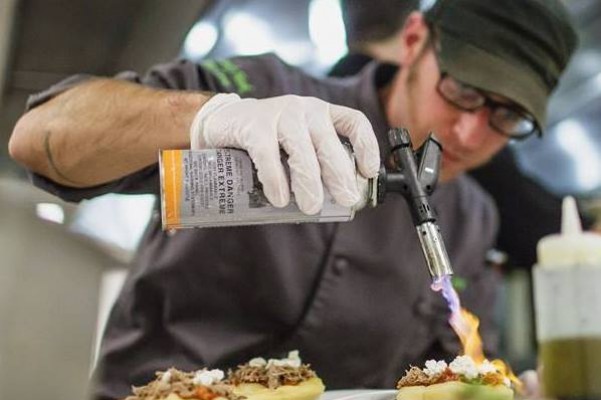 Chef Justin Kern
I recently learned that Justin has a dream and started a GoFundMe campaign to help him get it moving forward. He wants to create a fresher and better alternative to takeout food.
It's a classic dilemma. You get takeout from your favorite restaurant, but by the time you get it home it's just not the same – soggy, cold, squished. Or, you have a to-do list that's a mile long and just want to pick up a quick dinner. That usually means Chinese, pizza, or (heaven forbid) a fast food burger. Convenient yes, but certainly not healthy or particularly delicious. Well, that's where Justin wants to fit in. His restaurant concept, F3 (Fast Fresh Food), would fill the gap. He'll serve up healthy foods that are fast and can handle delivery or takeout without losing quality. Great idea right?
After reading about his concept, I just had to know more. Thankfully, he took some time of out his busy schedule to answer some questions.
Justin doing his thing at a Dinner Underground
presented by Chef Plum of Plum Luv Foods
Let's start with your experience in the kitchen. What's your culinary backstory?
I have a strange love affair with food. I have been in this industry for about 15 years. It all stems from my father and how he loved to cook. He was no chef by any means, but he could cook and took his experience from his travels in the Marines. He always made what he liked and put his spin on things.

The short story is… I started throwing pizzas in Saugerties NY when I was 16, spent 2 years there, and moved on to another place in Shokan NY where I really got to understand the ideas of food. It was this little pizza and BBQ joint that had so much soul and diversity of people. The really cool thing was that the guy who owned it used to be a singer and had this love for food. Especially BBQ and pizza. That's where I was introduced to gourmet pizza and learned all types of BBQ. From there I moved to Catskill, where I operated 2 other places and found my niche as a private chef and caterer. I took a short hiatus a few years back because the food business had taken more than it had given at that point. It wasn't until I moved to CT in the fall of 2012 that my passion really got re-sparked. I had been working with Chef Plum and I was meeting people that needed some real changes in their lives. And I could help.

But, the real "fix" for me is what I was able to do with food. How I could change how people felt and how they experienced food. With my catering and private clientele, understanding people's ailments and research and trial and error. I was able to help people with food… Almost like a modern day witch doctor in a sense. I love the fact I can cook anywhere with anything and people are moved by food. It's almost an addiction. And, like any addiction, it's learning how to balance and work with it rather than have it ruin you.
Justin and his lovely wife Karlee
Now let's talk about F3. What is the inspiration behind it?
I'm a husband, father and a chef – in that order. The inspiration behind F3 is seeing a need for families. I have 2 stepchildren and a 3-month-old son. Dealing with school, activities, homework, bedtimes, blah blah blah, we wanted to eat out or get something quick. But when you look around at all the food in my area (Newtown, Sandy Hook) it's either Chinese or pizza… Now don't get me wrong, I love me some good pizza, wings, and beer. But, you can't feed that to kids multiple nights a week. After talking to families trying to balance all that, they would always ask, "what do you guys do for food?" And me being me I'm like, "I just make dinner." And the response was always the same.. "well you're a chef, of course, you make dinner". After talking to my wife, who was once basically a single mother, she said most nights it was chicken nuggets or whatever she could make quick and easy; then she would eat whatever was left. That's where I saw there was a need. I kept saying, I want a place that makes fast, fresh, food… and so from there the concept of F3 was born.
Justin and the kids in the veggie garden
The whole idea of fresh, healthy "to-go" food is definitely missing around here, at least in my area. Some days I just want to grab a quick salad or a decent sandwich for lunch and that's not easy to find. What kinds of things would F3 offer?
Well, you bring up a good point. People think "to-go" and "healthy" means just grab a salad or a good sandwich. There is so much more to eating well then salad and sandwiches. Part of F3's allure will be its to-go dinners and lunches (we will do breakfast as well). The local sourcing of ingredients is the key to this. CT has some of the best farms around and I want to promote them as much as possible.

For one example, I will be doing different types of soups that range from healthy hearty traditional soups to "raw" based soups like a cold mushroom soup that utilizes a base of cashew milk, liquid aminos and fresh mushrooms. There will be gluten-free items and exchanges on the menu as well as being able to accommodate different dietary needs. I will also do kid-friendly options, foods that are appealing to children. I would do the "Chicken Nuggets" but with real chicken, I might even do some fun shapes, LOL. But even so, they will be baked with coconut flour or almond flour and egg. Trying to keep the healthy alternative.

I will be making actual to-go food good. Again, I make mention to the sandwich. Say you get a warm sandwich, if you don't eat it right then and you take it to your office, it's usually not as good, mushy or soggy. I have some creative packaging ideas that I am going to be implementing. So when you order your food and bring it to your family or work, it is just as enjoyable. Yes, there is some creativity and tricks involved, but that is the point. No one wants to order food, take it home and have a big soupy mess in a tinfoil disaster.
On your funding page, you say you're looking to start F3 in Brookfield, Newtown or Danbury. You know I'm totally pushing for downtown Danbury, right?
Yea, I am also pushing for Danbury. There is so much progress, and things happening in Danbury, it seems like the right fit. I've been doing a lot of work out there and I can see the demand. My good friend and partner in the project, Manny Carreras, has been a big supporter of the Danbury movement. He has showed me what that area has to offer and its potential. I see a total revival headed that way. Downtown Danbury has so much life, and it needs to be re-focused at some level. I know he has been a big part of that. I see people like that, and yourself, who have such faith in that area and you are not alone. With all that good energy, the rising food scene, and the local businesses striving to bring Danbury back to its glory days, I'd be honored to be a part of that movement.
Anything else you want people to know?
I want people to know this whole concept, and everything I have been talking about, sounds complicated…. and yes it is. But, that's for me to worry about. I want people to know I have been putting a lot of time and effort into this project to make it a simple and easy-to-use place for customers. I would love it to be like the show Cheers "where everybody knows your name." When you walk in everyone knows who you are and says hello. A place where you are not just a food order or customer but you are a friend and a welcome one.
This delicious morsel features one of Justin's least favorite things to make.
Okay, so kind of like James Lipton does on Inside the Actors Studio, let's end with some just for fun questions.
Favorite ingredient?
Loaded question. I don't have favorites, I have things I'm working with that I'm into at the moment. And at the moment… It's coconut flour… which is funny cause I don't eat raw or coconut flavor… See why its intrigues me?

Least favorite ingredient?
Anything to do with licorice. It's gross. But I like fennel. Odd right?

Favorite dish to make?
Filet with garlic butter and lobster with mango chutney. (First meal I made for my wife.)

Least favorite dish to make?
Tuna with compressed Watermelon.. Long story.. But its so good. But, damn it's a bitch.

Best part of being a chef?
Having that intimate relationship with people. People eat your food. It becomes part of them. When you do it right you can bring joy and make people feel good. The best things in life typically happen around food.

Worst part of being a chef?
The hours are the toughest thing. I don't mind the long hours and the crazy that goes into food, but it can be trying on a family. But, we always make it work, and my family is my biggest supporter.

What profession other than yours would you like to attempt?
Well, This is going to sound funny but follow me.. My brother owns a cleaning co. and I used to hang on buildings and roofs and clean windows. I actually really enjoyed it. I've always wanted to put on a superhero costume or something funny and clean windows on a big building for the children's hospital or something. Hanging over NYC and look down at all the people "ants." LOL.

What profession would you not like to do?
Anything that had to do with a cubicle.. Its bad enough I have to be on the computer or phone as much as I do.. but nobody puts baby in the corner…
Thanks for taking the time to tell us about F3. Let's do one final plug: How can people learn more, and more importantly, how can they help realize the F3 dream?
People can follow me on Twitter @chef_JKERN or Facebook, or go check out http://www.gofundme.com/i2hsgc.
It's a delicious dream that I certainly hope becomes reality.